IAAPI Expo 2023 set to take place in Mumbai in March 2023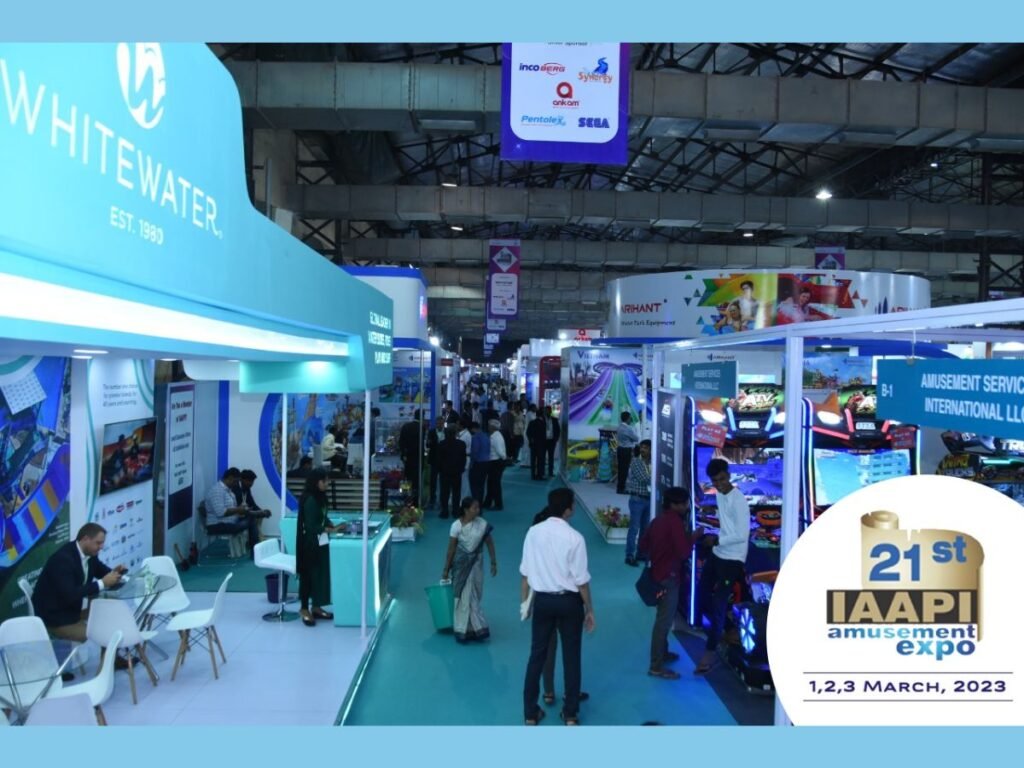 India's Biggest & Premier Exhibition IAAPI Expo 2023 to be held soon
Bengaluru (Karnataka) [India], February 9: IAAPI Expo 2023 – an exclusive trade exhibition for the Amusement, Leisure & Entertainment Industry of India is set to launch its 21st edition this year at the Bombay Exhibition Centre, Mumbai! The event is set to take place from the 1st to the 3rd of March, 2023 and will provide a platform for leading Indian and international companies and brands to showcase their latest products, services, offerings, and technologies to communities within the industry. The three-day exhibition is supported by the Ministry of Micro, Small & Medium Enterprises (MSME), Government of India. Uttar Pradesh Tourism & Madhya Pradesh Tourism are the prestigious partner states of the expo.
"As the Chairman of the Indian Association of Amusement Parks and Industries (IAAPI), I would like to highlight the importance of the amusement industry in the growth of the tourism sector of our country. Our organization plays a vital role in supporting and driving the growth of the amusement industry in India. Our missing has been to provide industry-leading resources, foster a collaborative community, and promote innovation. With the ever-increasing demand for quality, safe entertainment experiences, the future of the amusement industry in India holds tremendous promise. At IAAPI, we are proud to be at the forefront of this exciting industry with endless possibilities and a bright future ahead." said Mr. Rajeev Jalnapurkar, Chairman, IAAPI.
Mr. Nirmalsinh Rana, Chairman, IAAPI Trade Show, said – "We are thrilled to be back hosting the 21st edition of the IAAPI Amusement Expo! We are back after 3 years, and this year the excitement is higher than ever before! The Indian amusement industry has been growing very fast, and we have seen record booth reservations from across the world. We are also envisaging tremendous interest from our members and amusement attractions from across the Indian subcontinent."
Mr. Yogesh Dange, Vice Chairman, IAAPI Trade Show, said – "The sole purpose of this exhibition is to create a platform that will bring the entire industry under one roof. Various industry research reports estimate the growth of the Theme Park Tourism Market from its current projected value of US$ 49.1 billion in 2022 to US$ 166.67 billion by 2032, at a CAGR of 13% from 2022 to 2032. Recognizing this potential market growth, we at IAAPI aim to create a platform for members of the industry to come together and be part of this growth!"
Presented by the Indian Association of Amusement Parks and Industries (IAAPI), the exhibition will attract trade professionals comprising decision-makers from Amusement & Theme Parks, Water Park and Indoor Amusement Centre operators, Architects, Resorts & Hotel Chains, Government Officials, Real Estate & Mall Developer, Municipal and Local Authorities, Consultants, Museums and Science Centres, Historic / Tourism Attractions. The trade show caters to industry professionals from across the Indian Subcontinent, including Nepal, Bangladesh, Bhutan & Sri Lanka.
The exhibition is set to host over 135+ exhibitors from 14 countries, including Bulgaria, Canada, China, Germany, Hong Kong, India, Italy, Liechtenstein, Singapore, Taiwan, Netherlands, UAE, United Kingdom, USA, bringing together a comprehensive range of products and services offered by the industry under one roof; providing an opportunity to interact with the end-users. The platform will serve as an ideal business environment to explore new avenues of growth for members within the industry. Apart from business transactions, the exhibition also provides exposure to international trends through its many foreign participants.
The three-day exhibition will also serve as a knowledge hub for members within the industry, providing participants with a platform to share and learn new ideas. Here, leaders and stalwarts of the industry will share their learning, innovative ideas, schemes, and experience that may help those aspiring to get into the industry. Many important issues related to the amusement industry will also be discussed in depth.
The exhibition will also be hosting the National Amusement Awards for Excellence 2023, which will aim to acknowledge and honour the individuals and organizations that have left a mark in the Amusement, Leisure & Entertainment Industry of India.
IAAPI Expo 2023 is presented by the Indian Association of Amusement Parks and Industries (IAAPI) – an apex body representing the interests of Amusement Parks, Theme Parks, Water Parks, and Indoor Amusement Centres in India. IAAPI is a recognized, non-government, not-for-profit, industry-led and industry-managed organization playing a proactive role in the development of this sector. IAAPI represents location-based entertainment facilities, including amusement and theme parks, snow parks, indoor amusement centres, arcades, museums, water parks, aquariums, science centres, zoos, bowling alleys and resorts. It also represents industry equipment manufacturers, distributors, operators, industry suppliers, and service providers.
For more information on how to participate in IAAPI Expo 2023, you may visit https://iaapi.org/expo.
If you have any objection to this press release content, kindly contact pr.error.rectification@gmail.com to notify us. We will respond and rectify the situation in the next 24 hours.