Atharv Sharma : An Interesting Journey from an Avid Reader to an Authorpreneur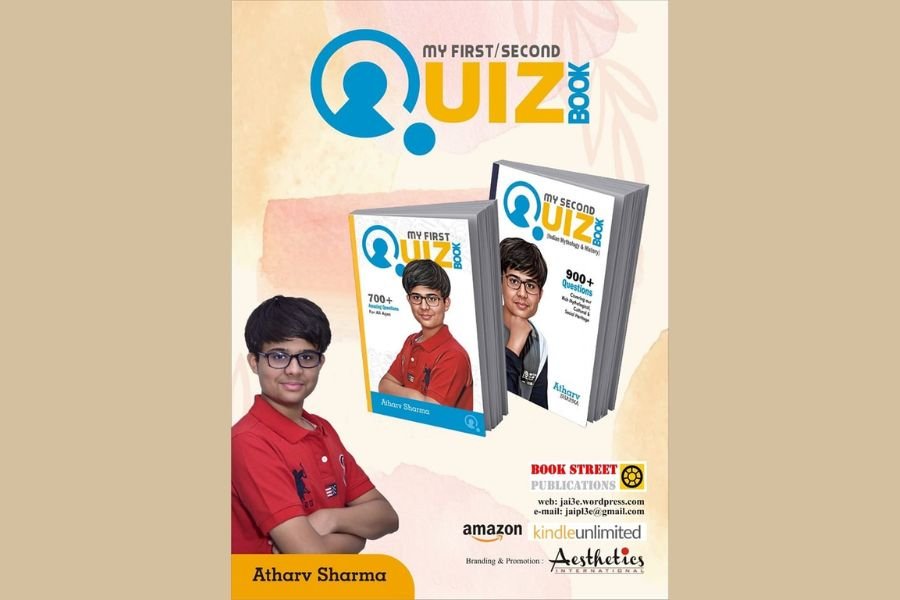 New Delhi (India), March 1: Not for nothing, an Indian researcher in child psychology suggested that the maximum role in the development of child prodigies is played by the environment. Master Atharv Sharma, 14, a student in class 9th, drew inspiration from the reading habits of his parents and his grandfather. A personal library of about 6000 books on various subjects – fiction, sports, mythology, history and many more, has been instrumental in his growing craze for reading and writing at such a growing age. After gathering whatever came to him for reading, he developed into an avid reader and by himself jumped to bring out his first quiz book, which clearly indicates the wide spectrum of his knowledge on various topics – general, history, science, sports, personalities, arts, culture etc. it is to be emphasized that all the questions in 70 quizzes comprising of 10 questions in each area of the interest for all ages. Most interestingly, he has introduced questions as challenges in the form of detailed information about the related matter. A few topics of general interest are also included giving some very curious and interesting facts.
The quiz book shows how much thought and research he has been through to compile the contents of the book. Within a short span of nearly 3 months, he was ready with his second quiz book dedicated to Indian History and mythology. A bank of a number of books on these subjects by various authors has been the prime source of the width and depth of a reservoir of important facts and figures. Atharv seems to have deeply explored all the information and literature before coming out with this masterpiece.
The 900+ questions in his second quiz book reflect a requirement of intricate knowledge of our rich heritage, must-know facts and finer details of history. Interestingly the questions cover every nook and corner of the country from north to south and east to west, be it names of books, events, festivals, rulers and saints. To answer these questions, one has to be an avid reader of history and mythology and be able to segregate the common from the astonishing.
The Interesting facts section of the second quiz book contains the description of quite a few battles fought on Indian soil and were the landmark in shaping our rich history. As a reminder of some commonly known scholars and wizards during different reins, a good reference includes the seven immortals that hold a special and pious place in Indian mythology. Another curious segment that includes the details of mythological animals has also been included.
The manner in which the entire effort by this young author is documented and presented is a sure pointer that within no time some more surprises are expected from him.
If you have any objection to this press release content, kindly contact pr.error.rectification[at]gmail.com to notify us. We will respond and rectify the situation in the next 24 hours.